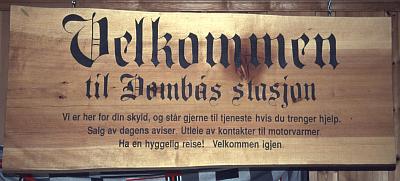 History
Dombås was connected by rail in 1913 by the Eidsvol-Dombåsbanen. It is situated 343 km north from Oslo, capital of Norway. In 1921 the line was extended to Støren where it connected to the Rørosbanen. In 1924 the Raumabanen between Dombås and Åndalsnes was opened and from that day on the station is a junction between the Raumabanen and Dovrebanen. The old station building (see pictures) was destroyed in 1940 and replaced by a new one in 1941.
Dombås is located at 659.3 meters above sealevel. In 1968 the Dovrebanen was electrified. The Raumabanen remains to be a dieseldriven line.
About the pictures. The origin on the first picture is unknown. The two other pictures are taken from pictures hanging on the wall in the current Dombås station building. The center picture is from 1924 and take by Anders Beer Wilse. Click on the pictures to get a better view.
My modelling era
My modelling era is focussed on the mid-1980's and the mid-1990's. During that time the branch line (Raumabanen) was serviced by Di3 powered trains. There was a once daily direct connection from Oslo to Åndalsnes (train 351) which changed locomotives in Dombås.
Freight trains were still very diverse, with very active freight service to Åndalnes.
About the pictures. These were taken by me in the mid-1990's and show the Di3 powered trains on the branch line as well as the electric locomotive powered trains in the main line. Click on the pictures to get a better view. Also see Dombås picture gallery for more pictures of Dombås.
Today
The 21 century brought a lot fo changes. The Di3 locomotives were retired and replaced by BM93 DMU's (Talent). The BM73 EMU's started to run the express trains between Oslo and Trondheim. More freight operators made their inroads in Norway and various operators can be seen between Oslo and Trondheim, with both older (El14) and newer locomotives (Traxx).
Resources